Duct Cleaning
Our team of duct cleaning technician's are very experienced and this is one of many different services that we offer here at Eurofilters.
We will repair and maintain your air conditioning systems. Often systems that are started on a Monday morning can circulate air that has stagnated over the weekend. This can lead to illness.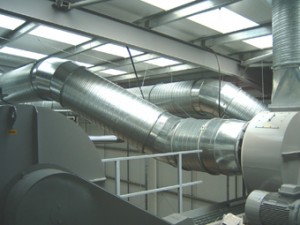 There are many different Duct cleaning services for ductwork, ventilation systems, air handling units, fans, in commercial and industrial premises such as offices, health care, education, hotels, leisure, factory, restaurants, kitchens.
Duct cleaning can improve your business productivity if your employees, clients, customers or whoever it is that you are dealing with are in a building that is well looked after, clean and has fresh air.
It is well known that contaminated air is one of the most popular causes of sick building syndrome (unhealthy building). Poor indoor air quality can result in many different things, from biological contamination, such as bacteria, mould, pollen and viruses that may breed in air ducts, humidifiers and drain pans.
The ventilation systems should be regularly and properly cleaned, tested and maintained according to the health and safety commission's code of practice to ensure that they are kept clean and free from anything which may contaminate the air. Regular ductwork cleaning is definitely essential. And In order to ensure that conditions for building occupants are comfortable and safe, building owners and managers have both a 'duty of care' and legal obligations to ensure that ventilation systems are kept clean by the most efficient ductwork and duct cleaning methods.
Euro Filter Installations are specialists in all aspects of duct cleaning, duct maintenance, repairs and installation. For assistance with you duct cleaning requirements, do not hesitate to contact us today and one of our specialist advisers will run through any details that you require.