Dust Filters
Dust Filters are designed specifically to remove dry dust, powder in varying industrial applications, they may feature jet-pulse cleaned cartridges. Euro filters range of dust filters are made to suit your requirements and conditions, providing you with a filter designed specifically for your needs.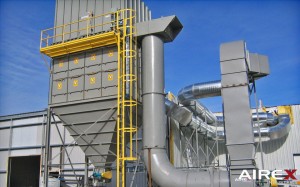 The objective of a dust filter is to remove particles from air in dust collection units.
Here at Euro Filter Installations we design and manufacture all of our dust filters so we can tailor these to suit your requirements and make the very best air pollution control filter for your application .
We ensure that we supply dust filters that are of the very highest quality, they are extremely competitively priced and if your dust filters don't actually need replacing we are more than happy to just keep them maintained and ensure that they do the dust filtration job in hand.
Although all of our filters are of a very high standard as a business we know that it is important to continuously develop new products whilst also looking at areas as to where we can improve the products that we supply.
We have many years of experience within the dust filtration industry and we are always looking to develop the business into new areas and expand the business whilst still maintaining the focus on offering a range of environmentally friendly products for a range of industrial applications.
So for the very best in dust filters and all types of filters for that matter, have a look through our extensive website today and let us make your work place dust free.