Fire Damper Testing
Fire dampers are products used in heating, ventilation, and air conditioning (HVAC) ducts to prevent the spread of fire inside the ductwork through fire resistance walls and floors. It is always extremely important to partake in regular fire damper testing.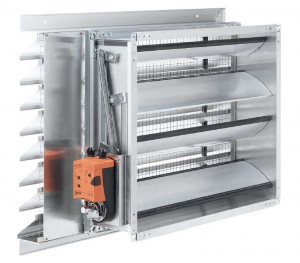 Here at Euro filters we provide an essential fire safety service whereby all your fire dampers will be located to ensure they are within the fire containment area and that they can be fully accessed. They are then cleaned, lubricated, drop tested and reset to make sure they are in good working order.
There are so many things that could possibly happen if a fire broke out in your building and could travel into your ventilation system, if your fire dampers are tested these fire dampers could reduce the risk of fire spreading throughout the ventilation system.
The fire damper testing will include many different things such as locating and operating all fire dampers and smoke dampers in the facility, removing and resetting the fusible link, to verify the damper fully closes. Also mark the location of the fire and smoke dampers and its corresponding number on the facility's drawings. And the technicians will take it from there.
All filters require the fire damper testing to ensure that the dampers are operable. This includes the latch, if provided, shall be checked and moving parts lubricated if necessary. Make sure that the fire damper is not obstructed by anything and can be easily accessed. Make sure there are no rust, bent tracks etc.