Hepa Filters
At Euro Filters we offer a full range of HEPA filters suitable for air filtration in a wide range of applications including things like clean rooms, research and medical laboratories, pharmaceutical establishments, electro technology and micro technology sites.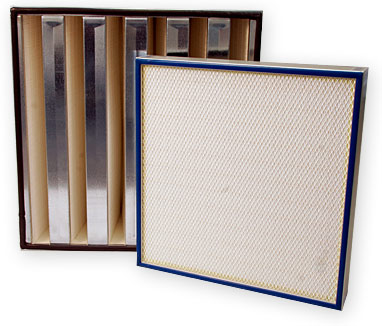 Our HEPA filters offer us with a unique capability and product range designed for clean environments. They can be made in panel, deep pleat, compact and cylindrical designs.
HEPA filters trap all the very small dust particles.
Depending on the needs, filters are supplied in either cylindrical or mini pleat , deep pleat & multi vee format and special seals are provided to ensure air tight installation.
Efficiencies of almost 100% can be specified with all filters being individually tested and certified. Flat panel high efficiency filters can be manufactured as replacements to match existing filters or to meet new design requirements.
Cylindrical filters offer an alternative to panel filters where this format is more appropriate to the application, for example where a limited face area is available.
Euro Filter Installations not only provide high quality HEPA panel filters and cylindrical filter for clean environments, but we are also on hand to clean or fix your HEPA filters. We do feel that when a filter is coming to the end of its days it always a much better option environmentally to completely replace the filter.
As we have been in the industry for a number of years now we are very well established within the industry when it comes to the installation and replacing of all types and makes of HEPA air filters.  For any advice, help of assistance in regards to any aspect of your air filters, panel filters then please do not hesitate to contact us here at Euro Filter Installations and one of our expert filter installation team will take the time to deal with your query.