Panel Filters
There are different types of panel filters we have to offer here at Euro filters, the main ones being pleated panel filters and glass panel filters.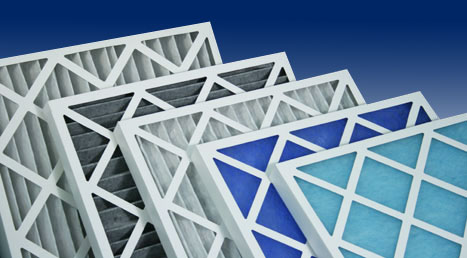 Pleated filters are suitable mainly in the lower efficiencies for general heating and air conditioning, and for pre filtering higher spec filters such as bags, carbons etc. not only do panel filters afford a larger media surface area, providing a longer life and higher dust holding capacity, but it also strengthens the entire filter, improving all stability and assuring performance in operation.
Glass filters are used for things like general heating, ventilating and air conditioning systems where protection is required from larger particle contamination.
The pleated filter is contained within the air filter by a rigid all cardboard casing, or a cardboard frame with recycled perforated cap-punch retaining grids.
Pleated Panel Filters have a Higher Efficiency and capacity than a similar sized Glass Fibre or Synthetic Filter. Supplying panel filters to suit a wide range of applications in various materials and fitting systems; we can supply products for small jobs as well as being able to provide panel filters for big places and can fit as many as there is needed.